——BINIC Abrasive come back with more Power, office staff come back to work and fight for coronavirus together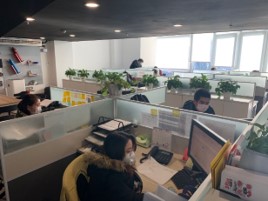 Shanghai: On 18th Feb, BINIC Abrasive office staff has worked in the office for almost one week. 90% of them come back. 10% of staff are expected to return in 2 weeks. So far the sales department and logistics department are working normally.
BINIC abrasive factory come back Even the figures for the infectors are still going up in Wuhan, but the increase rate has already drop down since 2 weeks. Shanghai is around 1500KM from Wuhan. So it is only handful people catch the virus and still much safer here.
Even we are far away from epidemic center, the office is still take a lot of measures for people health . The company provides free masks to our staff every day. In the meantime we procured the big portable ventilation machines make sure the fluidity of the air in the office. The daily sterilization work is guaranteed as well.
Our factory in Jiangsu Province are still pending for open for some documents works. Roughly estimate will be open on 24th Feb. We will keep providing our customers best products and service. If there is anything need for cut off wheels and wire brush, feel free to contact us.