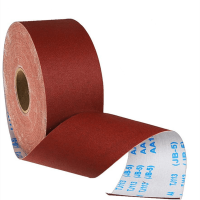 FEATURES:
These general purpose abrasives are continuous, long, narrow rolls of cloth backed coated sanding paper. Each roll of sandpaper is spooled and packaged in a convenient sandpaper roll dispenser box.
The cloth backing of the sandpaper rolls make these sheets durable and flexible for hand sanding applications, yet easy-tear or cut to quickly be made to the desired length needed each time.
They are perfect for larger jobs and high volume shops with a need for ongoing use of sandpaper that is more economical and customizable than standard pre-cut sandpaper sheets.
| Item No. | Material | Size | Grit | Applications |
| --- | --- | --- | --- | --- |
| 70000025 | Aluminium oxide+J-weight cloth backing | 230X280MM | 36-240 | Hand sanding wood and metal |