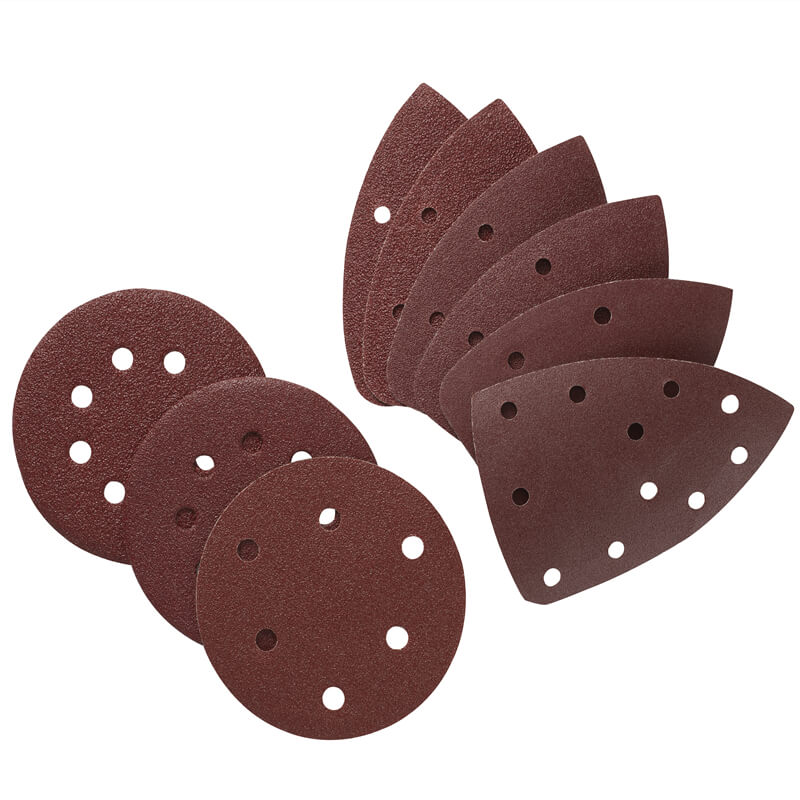 Binic Abrasive produce all kinds of Velcro abrasive discs. We have size from diameter 80mm(3") until Diameter 230mm(9"),and the grit from G24 to G1000. It is widely used in DIY and professional market.
FEATURES:
1. Made of durable, long lasting Aluminium Oxide that is suitable for sanding a wide range of surfaces including including wood, painted surfaces, metals, plastic and other materials
2. Hook and loop backing that is easy to stick to the detail sander, but will not fall off when in use
3. Easy to identify — Grit number is printed on the back of each sheet
4. Multi holesreplacement Sandpaper Sheets allow for increased dust removal. Keeps your work and sheet surface cleaner and helps increase sanding efficiency
| Item No. | Material | Size | Grit | Applications |
| --- | --- | --- | --- | --- |
| 70000035 | Aluminium oxide abrasives,C/E backing | Diameter 80-230mm( round), all kinds of strip and triangle type | 24-1000 | Grind raw wood, metal |
BINIC Velcro abrasive disc
These mouse abrasive discs and Aluminium velcro abrasive disc are suitable for matched 5 holes detail sanders, not suitable for adhesive sticker sanding pad. The material of these two products is Aluminium oxide grain. It has a fast and long lasting cut. Open-coat produces an even and consistent scratch pattern. Special stearate coating is used to maximize resistance to clogging and pilling. Hoop and loop sandpaper backing makes grit changes quick and easy, and lengthens the life of the abrasive. These products suitable for random orbital sander like Bosch ROS20VSC ,3725DEVS, DEWALT DWE6421K,BACK & DECKER BEDRO100, etc.
Why Choose Binic?
BINIC is our own brand line, bringing you a variety of high quality, high value products, to provide you with more choices. Every part of each BINIC abrasive product has been tested to stringent industry standards and is trusted by engineers around the world; They will only be recognized by BINIC if we are confident of their superior quality, which means you can be confident too.