You should have a clear understanding of the abrasive and sandpaper grit,sanding discs grit size requirements before choosing the best sanding discs for your projects. Make sure you select the appropriate abrasive sanding disc for grinder for the job, whether you're smoothing welds, metal, or wood, to improve productivity and cut costs.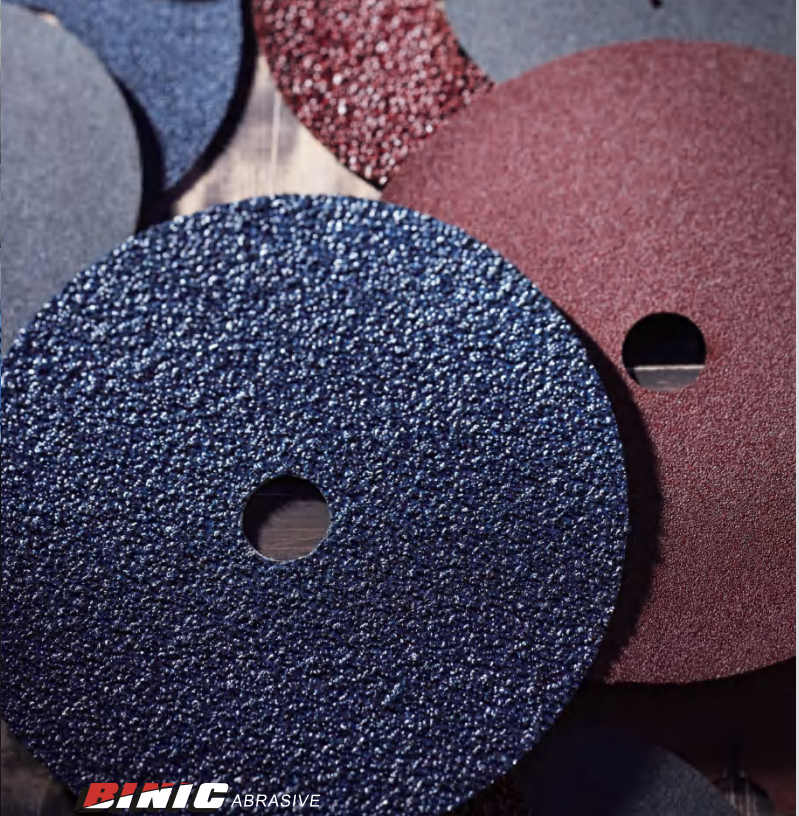 Composition Of Sanding Disc
Early angle grinder sanding disc and sanding disc paper like sandpaper were made of garnet, pumice, and emery, which were then varnished or glued to a paper backing. Modern sanding pads for grinder are made of man-made synthetic materials like ceramics, silicon carbide, and aluminum oxide. Higher-quality circular sanding pads are produced as a result of the increased control that man-made materials provide over tolerances, capabilities, and dimensions. These materials can be precisely formed, will maintain their grinding abilities for a longer period of time, and have superior heat resistance, enabling them to survive extremely high RPM.
Type of Sanding Attachment for Grinder
Sanding disc
Fiber Sanding Disc: These are suited for general-purpose tasks like surface preparation and hard grinding. Heavy duty coated grinding discs for resin fiber sanding discs are designed for use with backing pads on portable angle grinders in the manufacturing and industrial sectors as well as for painting and rust removal, deburring, portable grinding, and cleaning.
Flap Discs: Right angle grinders can be used with flap discs to grind and finish simultaneously since they have abrasive flaps attached to a sturdy backing plate. They work well for beveling, finishing, cleaning, and detailing tasks as well as for removing stock and materials during blending work. In the building and construction, automotive repair, energy, and transportation industries, flap discs are extensively utilized as flexible sanding discs for metal.
Sanding paper disc: These typical dry sandpaper for disc sander sanding discs are used with random orbital and rotary sanders, and they are probably the most popular and well-known abrasive sanding discs pad. They are employed for finishing wood, plastics, fiberglass, composites, and primers after moderate sanding. Trays are versatile and often available in a range of grits in PSA and hook and loop forms(velcro backed sanding discs). They can be used for sanding, smoothing, stripping, and the preparation and removal of paint. Paper discs can be used for blending, finishing, and microfinishing in addition to descaling and cutting. They are frequently used in manufacturing, industrial, paint and drywall work, collision repair, residential and recreational projects, and more. Binic provide best sanding disc for wood.
Film Disc: The film disc is designed for the final finishing of primed and painted surfaces, composites, and varnishes. It is backed with polyester film for outstanding flexibility, tear resistance, and flatness for an exceptional finish. In collision repair, transportation, manufacturing, and industry, thin film discs with hook and loop backing and aluminum sanding disc plate /ceramic sanding discs are used for finishing and microfinishing. This sanding pads for sander is the best as sanding disc for car.

Sanding Cloth disc: Cloth discs are excellent for collision repair work, home and hobby projects, metal fabrication, welding, building and construction mixing, paint preparation, polishing, stock removal, and stripping, among other uses. They are frequently used in random orbit and fixed disc sanders. use hook-and-loop or PSA backing, which, in combination with rubber backing pads, provides the rigidity required for durable steel. Binic manufacture 3 inch 3000 grit sanding discs.
Quick-Change Discs: Quick-Change Discs offer excellent mixing, deburring, and grinding into smaller, difficult-to-reach places and are designed with a screwable/screwable fastening mechanism and tool-less attachments to save downtime and maximize productivity. Quick-change discs can be used for surface preparation, paint preparation, paint removal, body panel resurfacing, finishing and deburring, stocking and derusting, blending and beveling, and grinding when used with portable grinders and disc sanders.
What Sanding Discs Grit is Best for You?
A typical name for the kind and size of abrasive on a disc is "grit." A numerical scale from coarse to superfine is used to rate sizes. You may usually use 320 grit sanding discs, 1200 grit sanding discs.Greater sanding disc grit on the disc surface and more aggressive material removal are indicated by a lower sanding discs grit count. In contrast,  higher sandpaper grits count indicates smoother finishes come from smaller, finer grits. Disc grit is always a crucial thing to consider when picking the proper disc for your project, even if there are many different discs for specific jobs, from fiber discs to floor sanding discs. In order to attain the desired smooth finish, it is best to use the wheel and grit in succession, each progressively erasing the scratch pattern left by the previous grit.