Seeking an economical way of purchasing cutting-off discs? Trading with manufacturers and suppliers of in China will be ideal–they are well-known for high efficiency and cost effectiveness. Below are three essential matters needing attention for purchasing cutting off discs in China.
Tip 1 -Mind the Price(Buy cheap, Buy twice)
Why you may be thinking of your budget, it's imperative to know that cheaper Cutting-off Discs aren't of high standards. Most of the time, this is often due to the contexture of the substandard nature of the abrasive. Cheap purchases might take you back to the market again, searching for another Cutting-off disc. Plus, buying cheap discs can affect your production process negatively.
Tip 2 -Mind the MOQ (Minimum Order Quantity) of Cutting-off Discs in China
The Minimum Order Quantity of cutting-off wheels and grinding discs in China is 5000 pieces. It's because the minimum quantity of printing labels is 5000 pieces.
But what if you are not sure about the quality? Or you just want to place an trial order for a quantity of 2000 pieces? The secret is to cover the cost of 5000 pieces printing labels, then manufacturers and suppliers will accept your order. It costs only about $200. And you can save the remaining 3000 pieces labels for your next order.
Tip 3 -Avoid Moisture Damage to Cutting off Discs in Transit
You should pay extra care to the storage environment of the products to avoid devastating losses caused by moisture damage.
If cutting off wheels and grinding discs are exposed to moisture, the service life will be shortened, and their abrasive performance and durability would be greatly weakened for that the main material is abrasive grain, which would absorb water and steam. Hence, damage and other adverse effects would be caused during a long-distance transportation.
Therefore, it is suggested that products should be stored under dry conditions and wet weather should be avoided.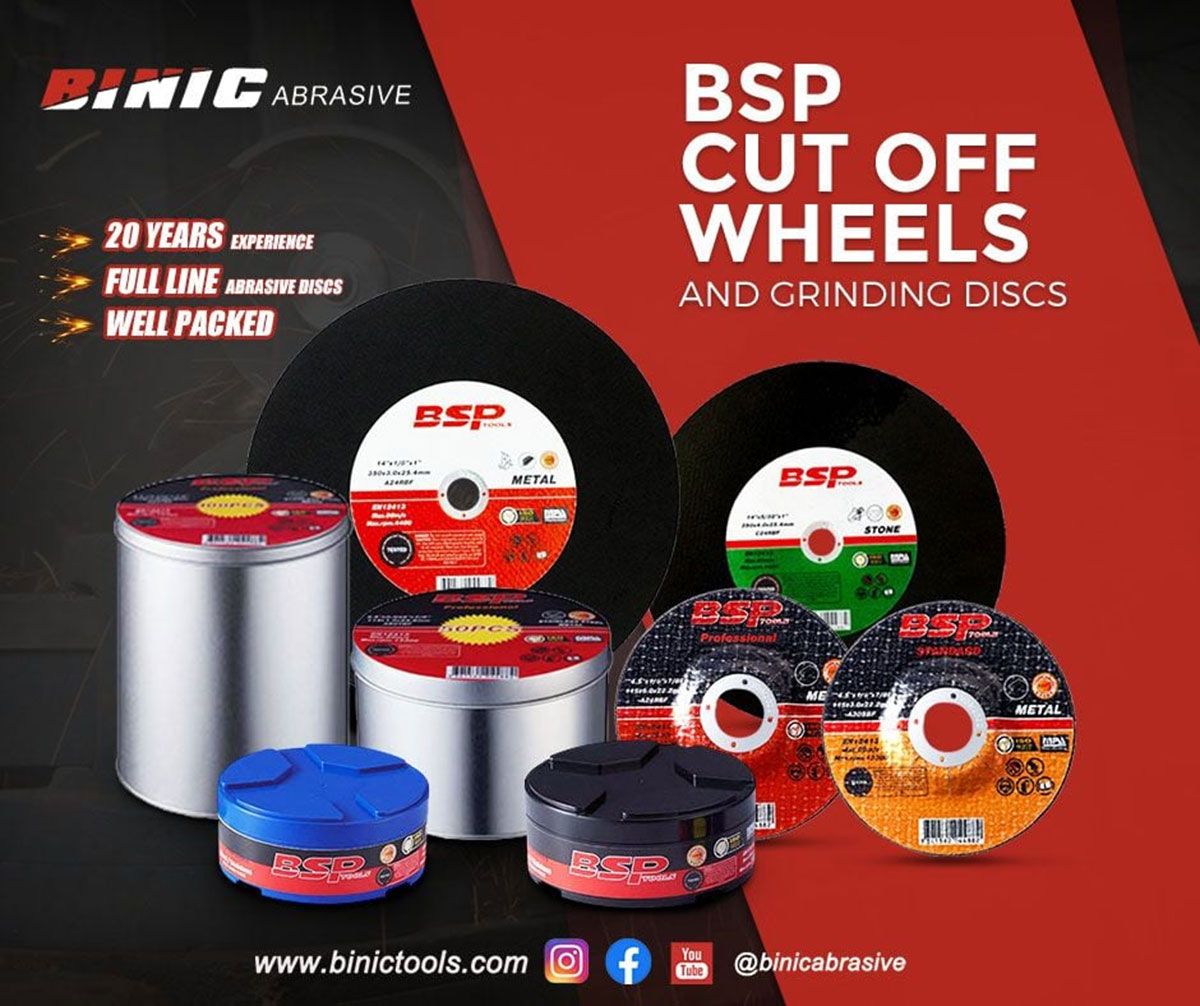 As a professional manufacturer for cutting off wheels and grinding discs, Shanghai Binic Industrial Co.,ltd offers over 10 automatic lines for cutting off discs from 115mm to 350mm. The high-precision humidity control in the workshop, as well as the ISO9001 and full series of MAP license, guarantees a high standard quality of its products.
Binic Abrasive enjoys great reputation in the market for its long history in the development, manufacturing and marketing in the industry of resin-bonded abrasive cut-off wheels and grinding discs. Its products are used on a wide range of materials, like metal, stone and concrete, in different applications including metal fabrication and manufacturing operations.