When grinding, you need a grinding discs for steel that provides good surface quality, zero burn or metallurgical damage, precise part tolerances and high production flexibility. Most importantly, it must be cost effective.
Now available online, we have chosen a range of grinding discs for steel because they have excellent grinding technology that gives you more performance than you expect:
Good surface quality
Zero burn or metallurgical damage
Precise part tolerance
High production flexibility
Cost-effectiveness
By testing a variety of grinding discs for steel, we found that the Binic series is the best at maximizing productivity. They have been proven to improve worker efficiency and quality of work. Thanks to an advanced bonding system, combined with easy-to-cut and fragile abrasives, this product offers you outstanding products:
Excellent shape retention reduces the precise tolerances required for dressing.
Free cutting action for cutting on a wide range of steels.
The amount of dressing is small to extend the life of the grinding discs for steel.
No burn grinding to improve part life.
A good surface finish results in excellent end results!
Which kind of grinding discs for steel do I need?
Universal grinding discs for steel
Alumina grinding discs for medium and low hard steel grinding for general use.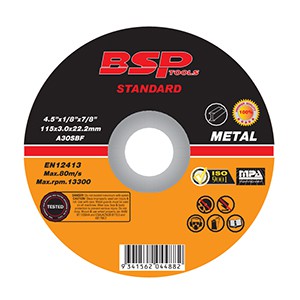 Diameter: 100mm,115mm,125mm,150mm, 180mm
Particle size: 10-120
Suitable for bench, base and turret grinding machines.
Durable abrasive bonding system
Low cost steel and medium carbon steel
Ideal for general purpose applications