In metalworking and manufacturing operations, various tools use cutting wheel for grinder to cut material from the workpiece.When you choose a grinding wheel, you should first know what it is and what it is used for.
1.What is a cutting wheel?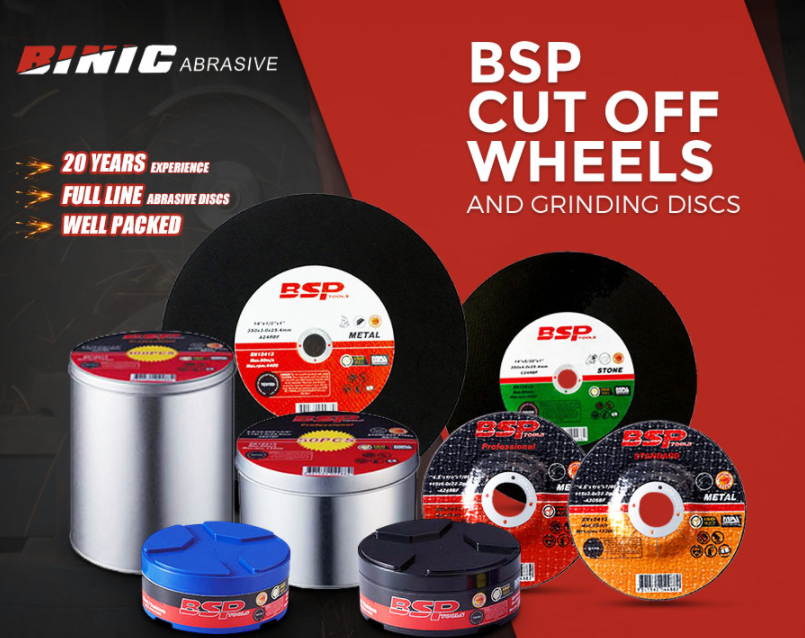 A cutting wheel, or cutting wheel, differs in function and structure from a grinding wheel. Metal cutting wheels use abrades to grind chunks of material away from the workpiece at a shallow Angle, while cutting wheels typically make narrow, precise cuts at a 90-degree Angle. As a result, cutting wheels are generally thinner than grinding wheels -although they don't have the lateral strength required for side grinding, their minimal thickness makes them more suitable for clean, accurate cutting.BSP abrasives provide metal cutting wheel for grinder of different thickness, size and material according to different applications.
2.Different types of cutting wheels
Cutting wheels come in a few different types. Some common grinding wheel types are type28, type 27 cut off wheel, type 41, and type 42, where the various numbers signify the grinder metal cutting wheels' different shapes and properties.
Type 41 : This is a flat angle grinder cutting wheel that allows for maximum cutting depth. The main disadvantage of using Type 1 wheels is that they are mounted in closer proximity to the protection, making it harder for the user to see what they are cutting.
Type42/27:The design features a more rigid feel when cutting, enhanced operator visibility into the cut, and the ability to wash the cut, as the raised hub allows locking nuts to embed and is easy to install.
3.Why can it be used to cut or grind things?

Because the grain in it determines the quality and the object of the cut wheel.The grain used to cut the best cutting wheel for rebar determines the cutting speed, life and cost ratio of the disc.
Type of grain that can be used to cut and grinding wheel:
Alumina particle
Alumina particle cutting wheel is the most abrasive wheel types of grinding wheels. These wheels offer very good cut rates and durability. They have a low initial cost for users, which is why they are popular.
Zirconium particle
Zirconium grain wheel disk type has an extremely durable design. These wheels are used for high performance cutting and are characterized by long life and low cost/cut ratio.
Ceramic particles
Ceramic particle cutting wheel allows long life and fast cutting speed. Ceramics also tend to be cut colder, reducing discoloration while maximizing product life.
4.Cutting wheel safety
1.Remember to wear protective safety glasses or a face mask with impact resistant lenses and a side guard.
2.Ensure that the working speed does not exceed the rated maximum wheel speed.
3.Check and test the wheel for cracks before each use.
4.Make sure the grinding wheel hole fits the tool rod.
5.Make sure the third wire is grounded to avoid electric shocks.Make sure the portable grinder is completely stopped before being put down. Use a stent if possible. If you don't have a stand, put the grinder next to it,All grinders can only be used when the wheels are covered with shields.
6.Do not stand directly in front of the grinding/cutting wheel when the machine is running.