T27 vs t29 flap disc is a concern,as professional Chinese manufacture for flap disc, we produce both flap wheels for T27 and T29 shapes.
There are 2 shapes of flap wheel, one is T27 which is the depressed center and flat surface, the other one is T2 which is also depressing center but conical surface.
The difference between type 27 and type 29 flap disc is as follows:
T27 vs T29 Flap Disc
T27 Flap disc:
It is very good for the flat surface.
Most people use the T27 type of flap disc to polishing/finishing and blending.
The grinding surface of the flat surface (T27) is smooth and is mainly used for grinding flat surfaces and external corners. During work, the angle between the flat flap and the ground workpiece can be ground and polished in one operation, reducing the workflow.
A Type 27 fiberglass backing delivers a grinding angle of 5-15 degrees.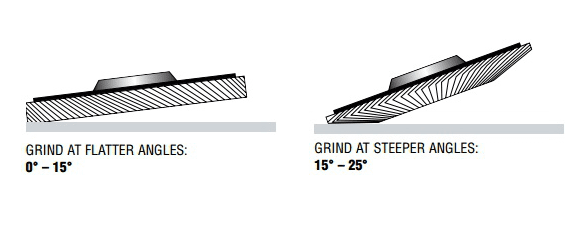 T29 flap disk:
It can provide very aggressive performance in stock removing. As it has a conical flap, people can also use it in groove and edge working. It is the best T27 and T29 flap disc.
The ground surface of the curved flap disc (T29) has an upward curvature, which gives the T29 flap disc a better cutting ability on a flat surface.
When working, the angle between the T29 grinding wheel and the grinding surface is 15 ° to 25 °. It is mainly used for contour and edge grinding. When there are higher requirements on speed and cutting ability, T29 flap is undoubtedly the best choice.
If you have any questions about T27 vs t29 flap disc, please feel free to send us Email: sales@binic-china.com
Your sales representative should be able to provide the best grinding, mixing and finishing solutions for your metal manufacturing applications.
Know about more on Dewalt grinder