What Is The Flap Disc?
Many manufacturing applications benefit from the use of flap discs. What makes flap discs unique among surface preparation tools such as cutting disc and grinding disc?
Flap discs, also commonly referred to as stop wheels, are designed for right-angle grinder applications. They provide aggressive stock removal or precise blending and finishing depending on the needs of the operator. They offer excellent versatility, maneuverability, and lower vibration and noise levels than grinding wheels.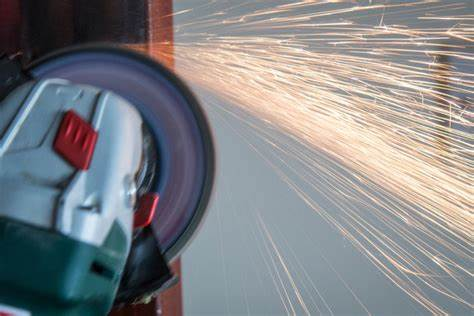 Flap discs are an excellent choice for many applications because they allow the operator to perform grinding and finishing in one efficient, time-saving, and cost-reducing step. They grind like hard abrasive wheels, but with more control, so you reduce the risk of scratching your workpiece, and they remain usable even after areas of the abrasive have worn away because new abrasive is exposed. They also tend to have a softer feel than grinding wheels and reduce the risk of removing too much material from the workpiece by over-grinding.
Basic Knowledge Of Flap Discs
Flap discs have 4 basic components: backing shape, backing type, gain type, and density.
Backing Shape
Type 29 – Conical
Built-in angles to increasethe contact area
Best for contoured surfaces and edge work
Minimize workpiece gouging
More aggressive cutting due to higher angle
15°-25° working angle
Type 27 – Flat Shape
Best for miters, corners and edges
The best choice for finishing complex ornate surfaces
Ideal for smooth finishing
0°-15° working angle
Backing Type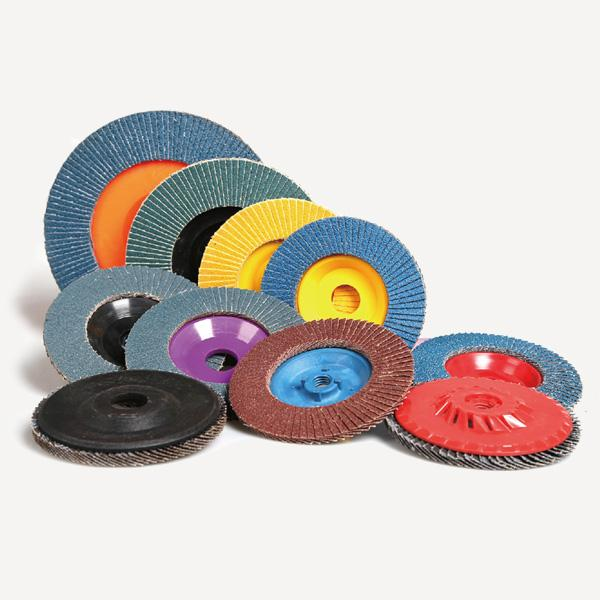 Fiberglass Backing
The backing will be worn evenly with emery cloth
Will not chip or smear ona workpiece
Lighter, quieter operation
Plastic Backing
Non-scratch, high-strength backing
Resistant to extreme temperatures, common chemicals and solvents
Some plastic backings are trimmable
Flap Backing: Polyester, Polycotton or Cotton
Polyester fiber
Capable of withstanding extremely high pressures without degrading the flaps
For extreme cutting and edge grinding
Cotton
For use where maximum fit and soft feel are sought
Must be used under light pressure to maximize performance and longevity
Polyester-cotton blend
Best of both worlds
Can withstand high pressure while still maintaining good cutting and finishing
Usually used as a starting point for first-time users on slapping disc maneuvers
Grain Type
Ceramics
This allows for consistency across a wide range of grinding applications
When sanding on steel, stainless steel or aluminum, you should consider choosing a ceramic disc
Ceramic also tends to grind cooler, minimizing discoloration while maximizing product life
Zirconium
These discs are used for general steel grinding, cutting and finishing
An economical choice whenthe cost is the driver
Density
High density flap discs provide the user with approximately 40% more abrasive material. The increase in abrasive material leads to an increase in beating productivity and longer life.