One of the more common yet difficult jobs in metal fabrication is using portable tools like to take down welds and produce a final finish on stainless steel tube or pipe. Sanding the weld dow to a No. 3 or No. 4 finish with a flap disc can seem like a daunting task, but taking it one step at a time can make this process much less formidable.
Before Getting Started to Use Flap Disc, It's Best To Consider a Few Guidelines:
Examine the material's surface condition, and consider the final condition you're trying to achieve. If the tube or pipe has a prominent weld seam, scale, or handling damage, you'll need to start with coarse abrasives and use more steps than if the material is in good condition.
Every abrasive leaf scratch must be removed by a finer abrasive. A coarser abrasive removes material more quickly but leaves deeper scratches than a finer abrasive, so efficient finishing is a matter of using the appropriate abrasive every step of the way.
Consider the goal. If you're trying to achieve a mirrorlike finish, you'll want to proceed more carefully and deliberately than if your goal is a coarse finish.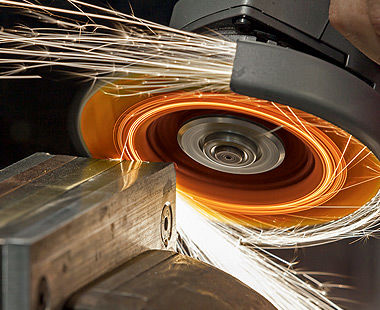 One Step: Take Down the Weld.
Taking down the weld can be done with a flap disc, fiber disc, or quick-change cloth disc. The choice depends on the type of grinder and the life expectations of the discs. Flap and fiber discs can be used on electric and pneumatic right-angle grinders, while cloth discs are used on pneumatic-powered, high-speed vertical spindles only.
Flap discs provide the longest life (up to 20 times longer than the others), but fiber and cloth discs have a more aggressive cut rate because of the backup pad's stiffness.
Stainless steel, like other difficult-to-grind materials, requires the sharpest possible grains and continuous lubrication during the grinding action. For these reasons, the recommended abrasive grain is ceramic alumina with a supersize coating or grinding aid, which serves as a lubricant.
Ceramic alumina has a micro-fracturing capability that allows for a constant supply of new cutting edges. Zirconia alumina or aluminum oxide also works on stainless steel, but ceramic alumina's properties provide more efficient grinding—faster cut rates and higher utilization of each grain. Furthermore, the grinding aid slows, and in some cases eliminates, disc loading, resulting in the longest product life.
The starting point for most applications is 36 to 60 grit. The finer the starting grit size, the easier it is to remove the grind lines in the next step.
Conclusion
Hope this step could help you use flap disc more smoothly. Read more: https://binictools.com/.